With a large arsenal of modern gene transfer methods available, virtually any protein can be produced on demand for both analytical and preparative purposes. However, while relatively simple proteins and peptides can be mass produced at low cost by bacterial fermentation, most human proteins are biologically inactive unless they undergo extensive post-translational modifications, and can therefore be correctly synthesized by mammalian cell cultures only.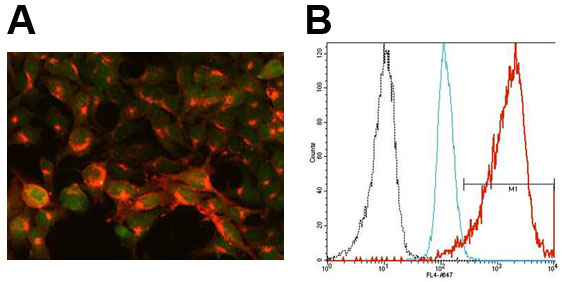 HEK293 cells engineered to overexpress TNFα,
a proinflammatory cytokine. A, Immunofluorescent stain (red) of HEK293 cells co-expressing TNFα and GFP (green). B, Flow cytometry labeling of HEK293xTNFα cells (red line) versus wild-type HEK293 cells (blue line). Black dotted line: isotype control.